Children's Cancer Network's Basic Needs Bins offers a childhood cancer family 2 – 4 weeks of toiletries, cleaning supplies, hygiene supplies, and paper products. This convenient bin saves both time and money for families, who may be short on both due to cancer treatment. 

This Basic Needs Bin has been received with positive comments from both families and social workers. Many of us take basic needs for granted, and yet to a family battling childhood cancer, the provision of basic needs such as laundry detergent, hand soap, dish soap, paper towels, toilet paper, and more is vital to their child's health and wellness. When undergoing cancer treatment, the child's immune system is challenged and cleanliness is fundamental to avoiding infection.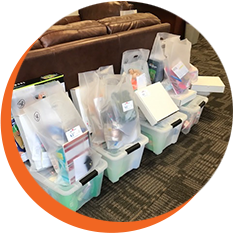 Choosing to offer ways to assist our families financially such as with these basic needs, gas, and food cards, Children's Cancer Network hopes to provide the means for families to re-budget their resources towards the regularly recurring bills and receive a hand up for those daily costs that are needed.